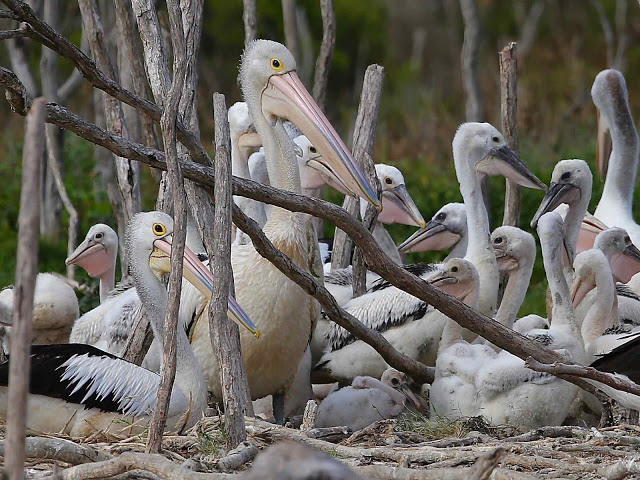 It isn't very often you wouldn't be able to spot a Pelican when visiting the Gippsland Lakes. For a species that is often sighted though, not a lot is known about its breeding and behaviour patterns in the Gippsland Lakes.
Birdlife Australia, together with the regional group of volunteers from Birdlife East Gippsland, are working on several projects funded by the Gippsland Lakes Community Grants 2017.
Graeme Dear, CEO of the East Gippsland Catchment Management Authority (CMA) said "The Gippsland Lakes funding is a priority in the Water Plan for Victoria. The projects are very much a partnership of agencies and community groups working together for the benefit of the Lakes".
The Australian Pelican will be one of the focus species of the projects. With its cultural significance and a bird that everyone knows and recognises, the new information will assist in demonstrating the importance of the Gippsland Lakes as a refuge in times of national and regional drought. It will also assist in the future management of wetlands. Other species will also be monitored including resident and nomadic birds such as Egrets, Cormorants, Ibis, Spoonbills and Herons.
Deb Sullivan from Birdlife Australia said "The iconic Pelican expanded its nesting colony to a second site over the previous breeding season but this year it doesn't appear that this will happen. It is known that the pelican has a nomadic response to significant rain events but there is no information on this response for the Gippsland Lakes. We hope through our projects that we may be able to answer some of those questions." The Gippsland Lakes is home to one of the few permanent breeding rookeries in Australia for the Australian Pelican.
Other work will include monitoring the distribution and behaviour of waterbird and shorebird species, impacts that human disturbances have on migratory birds as well as creating a breeding index to gain a better understanding of bird breeding patterns to ensure their long term survival.
Mr Dear said "The Gippsland Lakes are recognised internationally as a Ramsar listed wetland and are a vital habitat for native plants and animals. As a major tourist and recreation destination they also play a vital role in supporting the region's economy. The Gippsland Lakes community projects play an important role in looking after the Lakes."