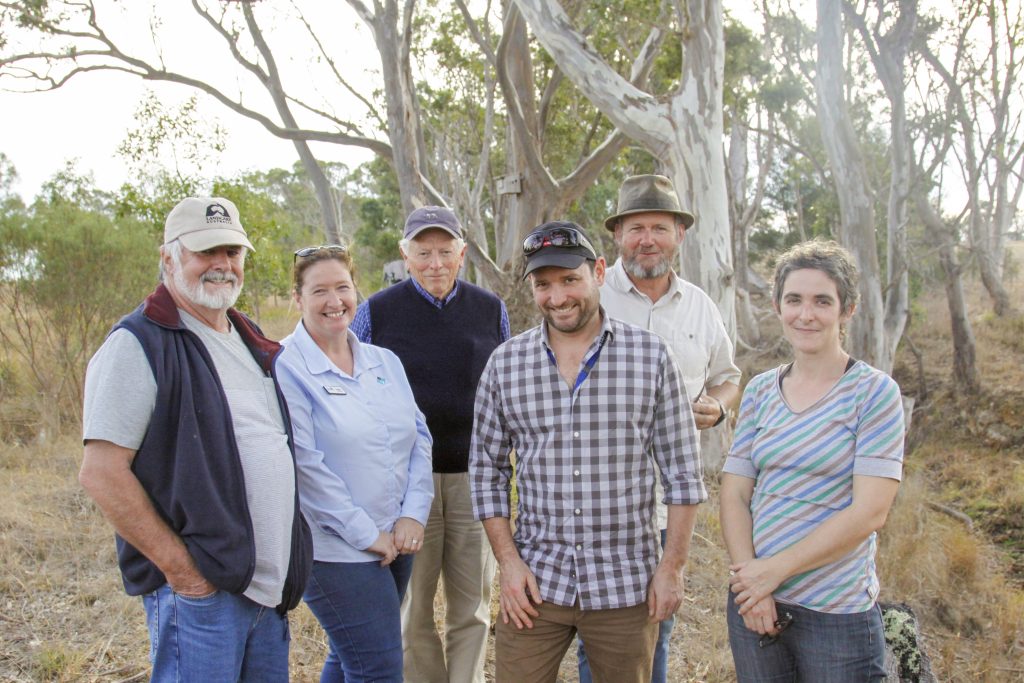 Community projects were the focus of a bus tour last week as staff from the East Gippsland Catchment Management Authority (EGCMA) visited four Landcare groups with the Authority's Community Programs Committee.  The day was an opportunity to review current projects and to meet Landcare volunteers who continue to roll up their sleeves to get things done.
The EGCMA administers the Victorian Landcare Grants, Regional Riparian Action Plan Grants and the National Landcare Programme Community Grants on behalf of the state and federal governments each year. The Community Programs Committee is made up of natural resource management agency representatives and community members who review and assess grant applications and recommend which projects should be funded.
The tour began on the East Gippsland Rail Trail at Nicholson. Meryl Wright and Michael Oxer, from the Nicholson River Landcare Group, spoke about their current project to build a new walking path from the rail trail to the river and the importance of the rail trail to the township.
In Bruthen, the long term vision for the Loop Walk project was explained by Geoff Williams from Bruthen & District Landcare Group. The Committee noted the challenges in revegetating an area as flood prone as the banks of the Tambo River.
A stop along the Mitchell River enabled Paul Harvey from the East Gippsland Landcare Network (EGLN) to inform the Committee of EGLN's involvement with the grants process and also review the progress of recent planting by the Bairnsdale Urban Landcare Group.
Finally, Alistair Mailer from the Romawi Landcare Group discussed the need to stabilise erosion points along Forge Creek and the importance of regular water quality monitoring given the creek flows directly into the Gippsland Lakes.
"Our Landcare and community groups are actively involved in caring for the environment" noted Graeme Dear, CEO of the EGCMA. "And it's great that both the federal and Victorian Governments are supporting community group partnerships such as these."
The State Government has recently opened the Victorian Landcare Grants for 2018-19 with grants of up to $20,000 available. If you are a member of a Landcare or environmental volunteer group with a great idea for a project on your patch then you should consider applying. Applications close on Tuesday 12th June, for more information please visit the East Gippsland Catchment Management Authority website.
The Victorian Landcare Grants support the implementation of Protecting Victoria's Environment – Biodiversity 2037, the state government's long-term plan to protect the environment.