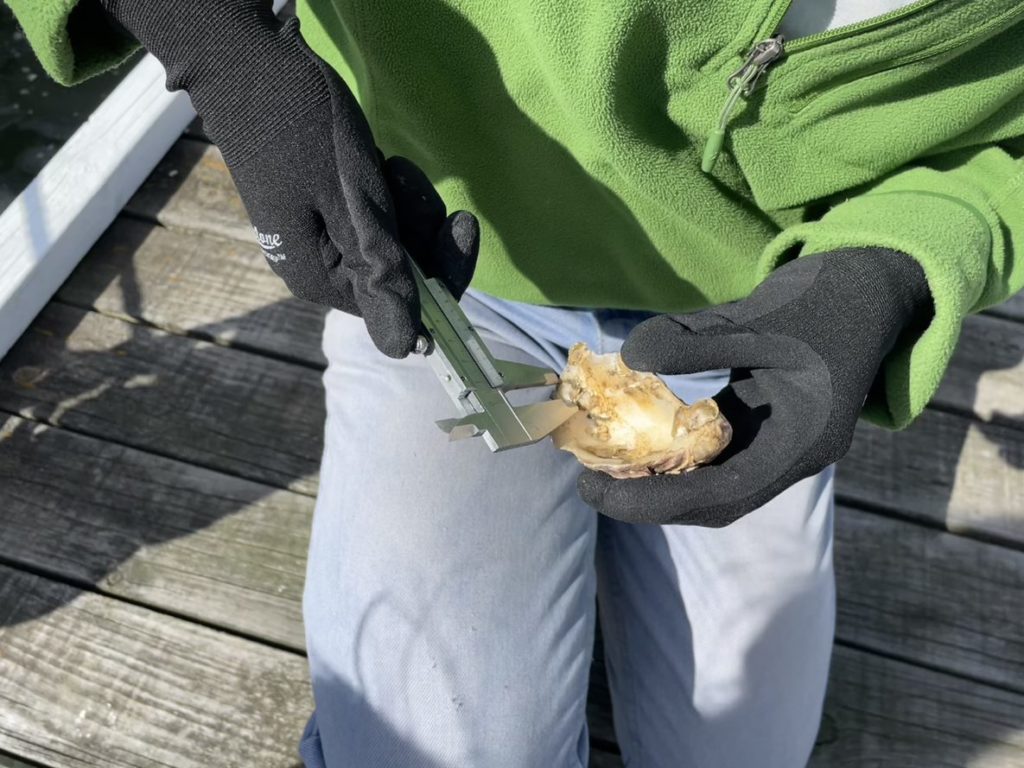 The local community has been integral to the Shellfish Reef Restoration Project in the Gippsland Lakes.
The Gippsland Lakes Shellfish Reef Restoration Project, led by The Nature Conservancy in partnership with the Australian Government and with support from the East Gippsland Catchment Management Authority (EGCMA), started in early 2022.
The first stage of the project, the construction of the shellfish reefs, was completed in March 2022. Since then, around 3.5 million baby native flat oysters, grown on recycled scallop shells, have been placed onto the reefs in order to kick start the reef building process. Millions of baby blue mussels have also naturally settled onto the limestone reefs along with some native flat oysters.
The Gippsland Lakes is one of 13 locations across Australia identified for reef restoration under Reef Builder, a partnership between the Australian Government and The Nature Conservancy Australia to bring shellfish reefs back from the brink of extinction to benefit the environment and local communities by supporting fish and other marine species and enhancing recreational and economic opportunities.
Over the past 12 months, the EGCMA has hosted a series of community engagement and citizen science activities, working with over 150 local residents and school children who have played an important part in the success of the project and helped to collect important data.
Amber Clarke, Acting CEO, EGCMA said, "Throughout the project, the local community played a vital role, actively participating in various initiatives aimed at collecting monitoring data, raising awareness and fostering a sense of environmental stewardship."
"Multiple education events were organised, catering to diverse local community groups, including schools, environmental volunteer organisations, angling clubs, as well as the wider community," said Amber.
Amongst the highlights was the Oyster Gardening citizen science program, where dedicated local volunteers nurtured and monitored baby native flat oysters that were eventually placed onto the reefs. This hands-on experience allowed volunteers to witness the growth and development of these remarkable creatures while also learning about their remarkable ability to filter water and provide habitat for a range of species in the lakes.
Primary schools were included in the action, as local events were organised to educate students about the broader Gippsland Lakes system and the significance of preserving and improving the health of our catchments for the benefit of future generations. Nungurner Primary School students also played a key part in the citizen science program, caring for and monitoring their own baby oysters.
To "shellebrate" the fantastic achievements over the past 12 months, the community were recently invited to attend a free boat tour of the shellfish restoration site near Nyerimilang, where participants learnt more about the project and its incredible achievements to date.
The restoration of shellfish reefs in the Gippsland Lakes supports the broader Love our Lakes initiative, which fosters a shared responsibility in caring for the Lakes and catchment.