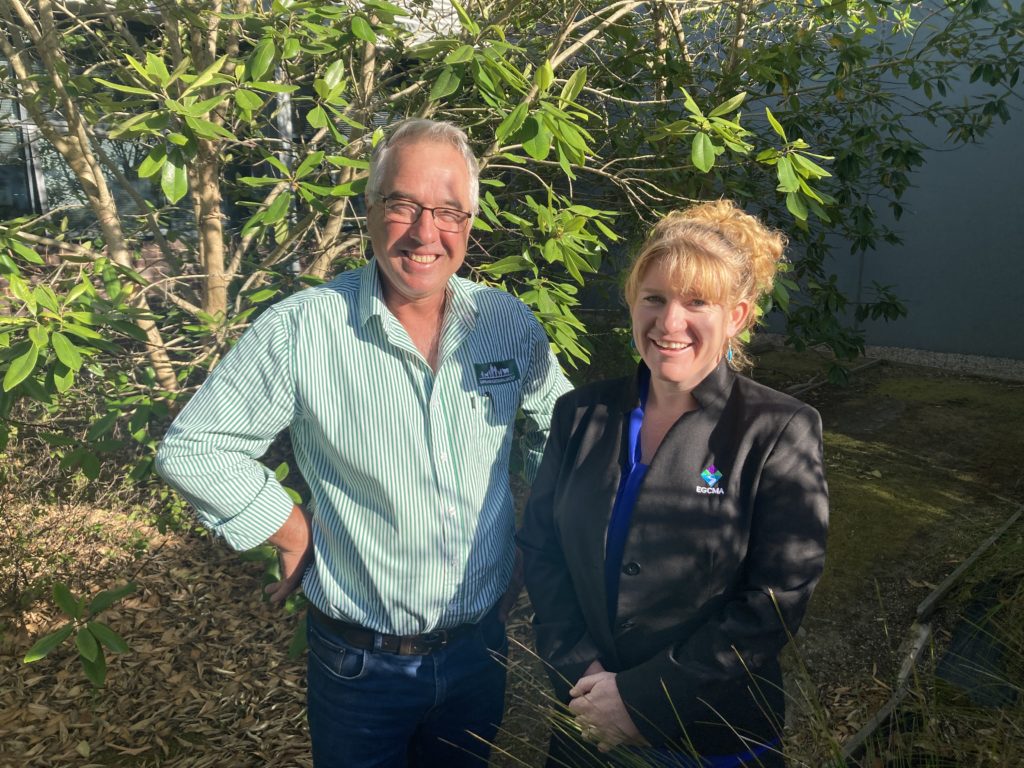 East Gippsland Catchment Management Authority partnered with East Gippsland farmers, groups, and agencies to look at ways to improve drought resilience for East Gippsland farms. The project, known as Sowing the Gap, has now been completed.
Bec Hemming, CEO at EGCMA, met with Trevor Caithness, CEO of Gippsland Agricultural Group (GAgG), to discuss the project findings. Bec said, "GAaG, Southern Farming Systems, East Gippsland Shire, Wellington Shire and Ag Vic have all worked together to build knowledge and understanding of cropping options to manage future droughts."
Trevor said, "Projects like this allow farmers to discuss crop varieties, techniques and strategies together that have worked well. We know not all options work every time, but we have been able to practice cropping techniques and see how various varieties respond. Learning is partly about the data but also the practice. In this project, we have done both these things together."
"Seeing people working together to test new options and trial them in different parts of East Gippsland has been fantastic."
The project has comprised two main parts. Firstly, farmers have been trialling different fodder cropping methods and varieties in areas of East Gippsland from the high country to the coast. Trevor said, "farmers have been visiting the sites and discussing how they performed. We had some challenges with continued wet weather, but that is the type of variability we have to cope with in our normal businesses."
By documenting and sharing knowledge and findings, the project has been a source of information sharing for many farmers.
Bec said, "the project has also collected stories from farmers on how they managed in the last drought. The stories were published as newspaper and can be found here."
Trevor says, "we also videoed each farmer involved to provide their insights. These are linked to the partner agencies' websites for people to view in their own time. I think farmers would be well served to have a look at these. They are simply stated and give great insight into people's approaches to dry times."
All farmers know that managing through drought is very difficult. What works on one farm may not suit another.
Trevor said, "the most important thing is to have a plan and implement it. It can be as simple or complicated as you choose, but having a plan is super important before the next dry period hits."
This project is supported by East Gippsland Catchment Management Authority through funding from the Australian Government's Future Drought Fund, East Gippsland Shire Council, Gippsland Agricultural Group and Southern Farming Systems.