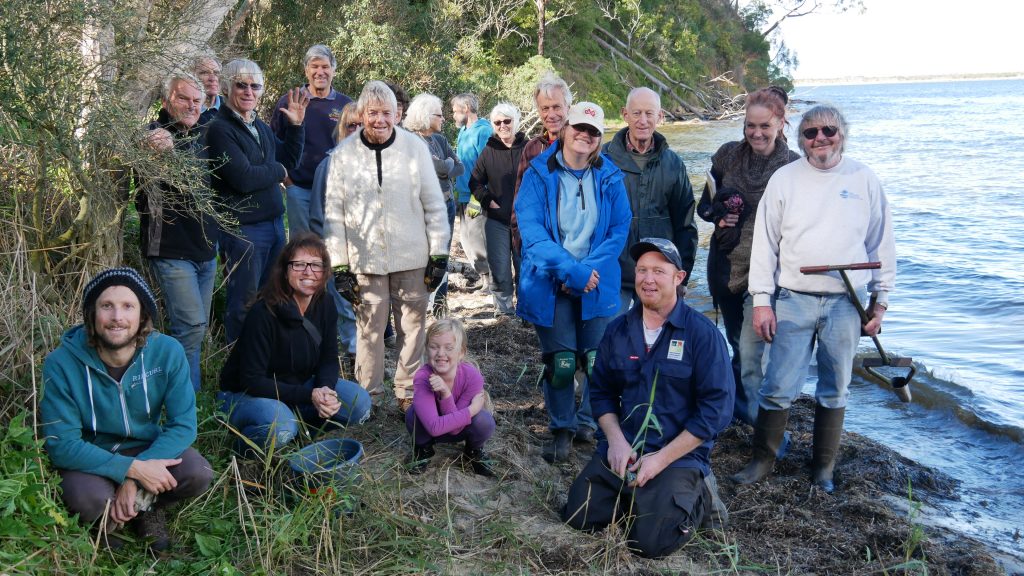 Chances are you probably haven't heard of Hansons Bay, a hidden little gem of a bay just around the corner from Nungurner. It's an area that the Nungurner Landcare Group know well, particularly the steep sloping section of rainforest leading down to the waters edge.
With the assistance of a Victorian Landcare Grant the group are currently working to regenerate the site. The project has already seen a huge amount of exotic weeds removed and over 600 rainforest species replanted. Unfortunately, pest animals, primarily deer, are also fond of the site and so the group have had to install tree guards to protect the seedlings from being eaten.
"East Gippsland is the only place in Victoria where rainforest to the waters edge is known to occur. This as a long term project to bring the rainforest canopy back" said Louise Avery, Nungurner Landcare Group Secretary. "The weather conditions this year are making things a little tricky for us but we've been well supported by the Victorian Landcare Grants and also the East Gippsland Rainforest Conservation Management Network (EGRCMN). We're lucky that they have lots of volunteers who are willing to work right across the region on rainforest restoration."
While Nungurner Landcare Group's primary focus is the restoration of degraded areas around their local patch, the group readily welcome the opportunity to work with other Landcare groups and agencies. "We're a small but merry band of volunteers" explains Ms Avery.
The group have lent a hand to help the Lakes Entrance Community Landcare Group on their project at Kalimna Gully, assisted Greening Australia and Parks Victoria with a rejuvenation program on Pelican Island and worked with the East Gippsland Shire to improve the amenity of the Nungurner jetty.
Ivan Knight, President of Nungurner Landcare Group appreciates the importance of working together. "We all recognise the value of our natural habitat" he explained. "It just makes it more fun, and you really get a sense of the more people who are involved, the quicker the work gets done so it's less of a chore."
"Having like minded people around you to get things done helps you to keep getting things done. We all learn from each other too so it really has paid off for us to work collaboratively and we certainly want to keep doing that as we go forward."
Nungurner Landcare Group's Hansons Bay project is funded through the Victorian Landcare Grants supporting the implementation of Protecting Victoria's Environment – Biodiversity 2037, the state government's long-term plan to protect the environment.
The Victorian Landcare Grants have recently opened for 2018-19 with grants of up to $20,000 available. If you are a member of a Landcare group or an environmental community group with a great idea for a project on your patch then you should consider applying. Applications close on Tuesday 12th June, for more information please visit the East Gippsland Catchment Management Authority website.