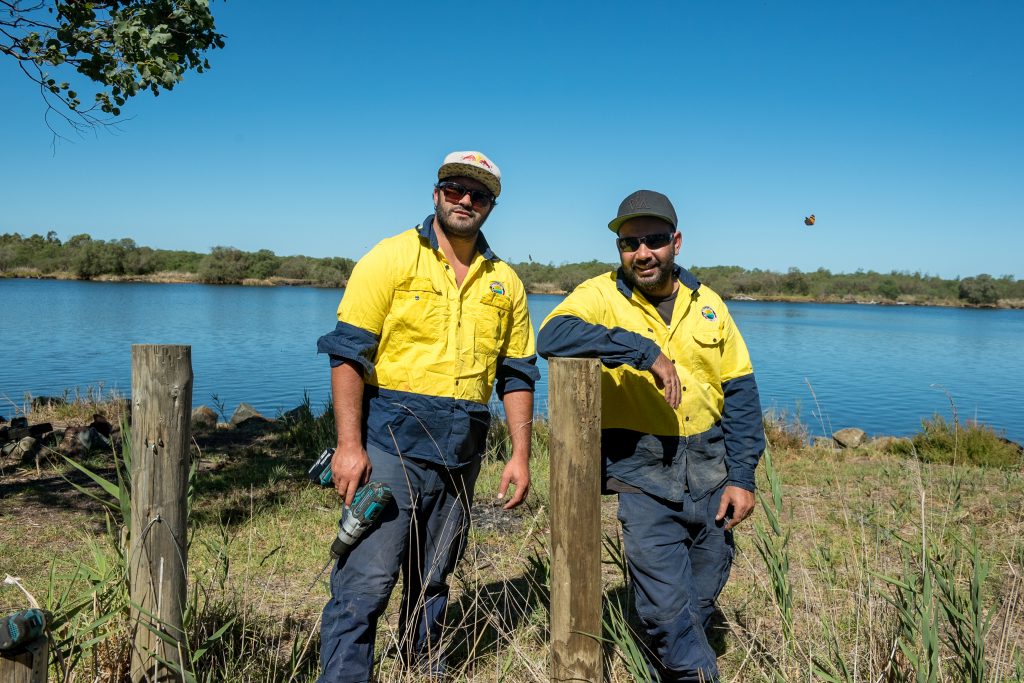 The Gunaikurnai Land and Waters Aboriginal Corporation (GLaWAC) NRM crew have been busy at the mouth of the Tambo River recently, undertaking a fencing project at the popular site.
Working in partnership with the EGCMA and DELWP, the works will establish clear public access points to the well known fishing spot.
These works are part of a coordinated effort to improve the health of the Tambo River together with public access and amenity of five popular sites from Ensay downstream to the mouth of the river.
Daniel Miller, On Country General Manager at GLaWAC said  "Caring for country is one of the core roles of GLaWAC. Our NRM team are proud to be working on country in partnership with DELWP and EGCMA to achieve this common goal".
"The Water Plan for Victoria encourages greater involvement of traditional owners in the management of our rivers." said the acting EGCMA CEO, Bec Hemming. "Working together with DELWP and GLaWAC provides opportunities to build and share skills and cultural knowledge."
The project is funded by the Victorian State Government as part of $222 million committed to improving the health of waterways and catchments in Victoria.
Many hands are making light work to improve access and amenity around the the Tambo River in Ensay.
The East Gippsland Catchment Management Authority (the Authority) has been working with DELWP, Swifts Creek / Ensay Landcare Group and local landholders to remove weeds, including blackberry, cape ivy and willows, over a 7km stretch of the waterway between Doctors Flat and Ensay.
The local Landcare group has identified and controlled weeds on areas along the river  adjacent to private property.
The Authority has partnered with DELWP and engaged local contractors to improve river health and land productivity. In addition to the weed control, the project includes erecting fences to keep stock off the waterway and replanting key sites.
"Partnerships are of vital importance to the Authority and we appreciate the contribution and resources that landholders and partner agencies have contributed to make this project a success." said Chief Executive Officer, Graeme Dear said.
These projects are funded by the Victorian Government's Regional Riparian Action Plan and Our Catchment's, Our Communities.